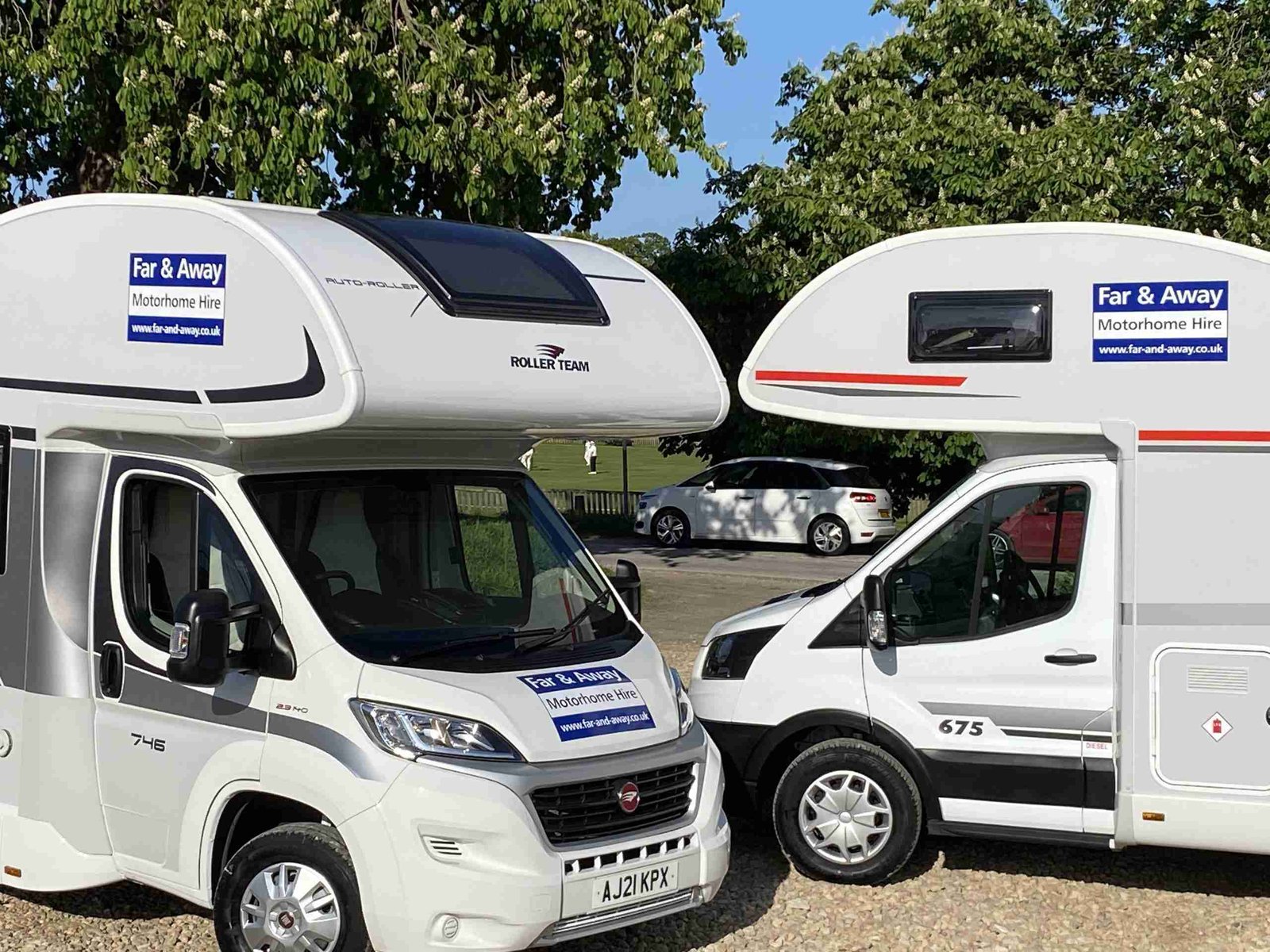 We include a range of 'extras' that our competitors either do not provide, or they charge you a premium for. Click here for more details

Our pricing system is upfront and simple. We spell out the charges clearly so that you know exactly what you'll be paying.

All prices are for our drive-away package. You will find that we include in this 'basic' package more than our competitors include in their deluxe packages (which they charge hundreds for). Many will not even give you these options at all.

Unlike our competitors, we do not charge extra for bedding and towels. We include unlimited broadband. And we also throw in a whole host of additional extras, including beach essentials and even reusable BBQs.

We provide our own add-on packages which include food hampers and, for our excursion packages, we even book the site(s) for you. All you have to do is drive away!

After you complete the booking form you will be sent an invoice for a deposit to secure your booking. In addition to the contractual stuff, you will also be sent a form to complete which will tell us a bit more about your plans. We will send recommendations for our favourite sites, tips for booking pitches, details of our favourite walks and family-friendly cycle routes, packing tips and even recipe suggestions for dishes that we have tried that work well in a motorhome kitchen.
We generally restrict bookings to 7 days. However, we are happy to consider bookings for shorter periods (weekends or weekdays). If you would like to enquire about a shorter booking, please contact us. If we can accommodate your needs, we will!
Our rates. Simple and competitive.
| | |
| --- | --- |
| Low season (January-March, November-December) | £750 |
| Mid season (April -June, September-October) | £950 |
| High season (July-August) | £1150 |
If you'd prefer to speak with a human, or if you have a question you'd like to ask us over the phone, you can call us on: 07802 803751 / 07525 481354
---
Roller Team Roller 746
Rohan
Luxurious motorhome with rear-shaped lounge
5 seatbelts
From £750 per week
Manual gearbox
Rear U-shaped lounge, makes up into a large bed
Large king-sized bed above the cab
Usual far-and-away no-cost extras
Click HERE to check availability and book Rohan

Our bookings ordinarily run from Saturday to Saturday. If you want to book for shorter periods, please contact us using the form above.

| S | S | M | T | W | T | F |
| --- | --- | --- | --- | --- | --- | --- |
| | | 01 August 2022Bookings start and end Saturdays | 02 August 2022Bookings start and end Saturdays | 03 August 2022Bookings start and end Saturdays | 04 August 2022Bookings start and end Saturdays | 05 August 2022Bookings start and end Saturdays |
| 06 August 2022Bookings start and end Saturdays | 07 August 2022Bookings start and end Saturdays | 08 August 2022Bookings start and end Saturdays | 09 August 2022Bookings start and end Saturdays | 10 August 2022Bookings start and end Saturdays | 11 August 2022Bookings start and end Saturdays | 12 August 2022Bookings start and end Saturdays |
| 13 August 2022Bookings start and end Saturdays | 14 August 2022Bookings start and end Saturdays | 15 August 2022Bookings start and end Saturdays | 16 August 2022Bookings start and end Saturdays | 17 August 2022Bookings start and end Saturdays | 18 August 2022Bookings start and end Saturdays | 19 August 2022Bookings start and end Saturdays |
| 20 August 2022Bookings start and end Saturdays | 21 August 2022Bookings start and end Saturdays | 22 August 2022Bookings start and end Saturdays | 23 August 2022Bookings start and end Saturdays | 24 August 2022Bookings start and end Saturdays | 25 August 2022Bookings start and end Saturdays | 26 August 2022Bookings start and end Saturdays |
| 27 August 2022Bookings start and end Saturdays | 28 August 2022Bookings start and end Saturdays | 29 August 2022Bookings start and end Saturdays | 30 August 2022Bookings start and end Saturdays | 31 August 2022Bookings start and end Saturdays | | |

| S | S | M | T | W | T | F |
| --- | --- | --- | --- | --- | --- | --- |
| | | | | | 01 September 2022Bookings start and end Saturdays | 02 September 2022Bookings start and end Saturdays |
| 03 September 2022Bookings start and end Saturdays | 04 September 2022Bookings start and end Saturdays | 05 September 2022Bookings start and end Saturdays | 06 September 2022Bookings start and end Saturdays | 07 September 2022Bookings start and end Saturdays | 08 September 2022Bookings start and end Saturdays | 09 September 2022Bookings start and end Saturdays |
| 10 September 2022Bookings start and end Saturdays | 11 September 2022Bookings start and end Saturdays | 12 September 2022Bookings start and end Saturdays | 13 September 2022Bookings start and end Saturdays | 14 September 2022Bookings start and end Saturdays | 15 September 2022Bookings start and end Saturdays | 16 September 2022Bookings start and end Saturdays |
| 17 September 2022Bookings start and end Saturdays | 18 September 2022Bookings start and end Saturdays | 19 September 2022Bookings start and end Saturdays | 20 September 2022Bookings start and end Saturdays | 21 September 2022Bookings start and end Saturdays | 22 September 2022Bookings start and end Saturdays | 23 September 2022Bookings start and end Saturdays |
| 24 September 2022Bookings start and end Saturdays | 25 September 2022Bookings start and end Saturdays | 26 September 2022Bookings start and end Saturdays | 27 September 2022Bookings start and end Saturdays | 28 September 2022Bookings start and end Saturdays | 29 September 2022Bookings start and end Saturdays | 30 September 2022Bookings start and end Saturdays |
---
Roller Team Zefiro 675
Lily
Our luxurious but practical family-favourite
Automatic gearbox
From £750 per week
Convenient rear double bunks and above-cab king-sized beds can be permanently made-up
Usual far-and-away no-cost extras
Click HERE to check availability and book Lily
---
If you cannot decide which motorhome you are interested in and/or you'd like to enquire about booking break, complete the following:
We usually book a minimum of 7 days. However, we are able to offer shorter-breaks by arrangement. Click here if you are interested in a shorter break.

Let us know which dates you're interested in
---
For general queries, please use this form: